Megamania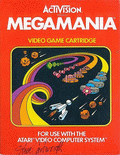 Game title:
Megamania
Platform:
Atari 2600
Author:
Activision
Release:
1982
Genre:
Action, Shooter
Mode:
Multiplayer
Design:
Steve Cartwright
Game manual:
Atari2600Megamania.pdf
Played:
87,034 times
Play Megamania online in your browser without download and enjoy with RetroMania Online Emulator! Megamania is classic game for Atari2600 has Action, Shooter genres for Atari 2600 retro console. If you love Atari2600 Online games you can also find other emulator games on our site.
Megamania is an Atari 2600 game designed by Steve Cartwright and published by Activision in 1982. It took about six months to develop the concept, and another three months to fine tune the game. It was later released for the Atari 5200 and Atari 8-bit family in 1983, ported by Glyn Anderson. The Atari 2600 version was also bundled in with the Activision Anthology release in 2002.
In Megamania, the gameplay resembles that of Space Invaders. Rather than being aliens or spaceships, however, the enemies in this game are various objects such as hamburgers, bow ties, and steam irons. The object is to shoot them down before the energy bar at the bottom of screen is depleted, all while avoiding the oncoming enemies and their own projectiles attacks. Each of the enemies fly in select patterns and as soon as they hit the bottom of the screen, they re-appear at the top until shot by the player. The player's spacecraft depicted in the game is a cross between the U.S.S. Enterprise and Klingon battlecruiser from the Star Trek universe.
Gameplay-wise and in terms of graphics, MegaMania bears a very strong resemblance to Sega's 1981 arcade title 'Astro Blaster'. Both games feature nearly identical patterns of approaching enemies with the player relying on an 'Energy' meter. Also, the player's ship bears a remarkable similarity in both games.
More details about this game can be found on
Wikipedia
How to play:
Click on the joystick icon in the Megamania online emulator to see how to control the Megamania game