Blockout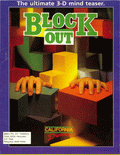 Game title:
Blockout
Platform:
MS-DOS
Author:
California Dreams
Release:
1989
Genre:
Puzzle
Mode:
Single-player
Design:
Aleksander Ustaszewski, Mirosław Zabłocki
Game manual:
Blockout_-_DOS_-_Manual.pdf
Played:
199,859 times
Play Blockout online in your browser without download and enjoy with RetroMania Online Emulator! Blockout is classic game for DOS has Puzzle genre for MS-DOS retro console. If you love DOS Online games you can also find other emulator games on our site.
Blockout is a puzzle video game, published in 1989 by California Dreams, developed in Poland by Aleksander Ustaszewski and Mirosław Zabłocki. The game is the logical extension of Tetris into the third dimension. In regular Tetris, the player manipulates a set of tetrominoes which fall into a two-dimensional pit (seen from the side). The aim is to solve a real-time packing problem by forming complete rows, which then disappear and score points. Poor play leads to incomplete rows, caused by inefficient arrangements of tiles; these rows do not disappear, giving the player progressively less space and less time to play subsequent pieces.
Similarly, in Blockout, the player manipulates a set of polycubes which fall into a three-dimensional pit (seen from above; the pieces appear in the foreground and fall away). The pieces can be rotated around all three axes, and moved horizontally and vertically. The aim is to form complete layers.
The game allows the player to choose the set of blocks they will play with and the size of the pit. Pits range from 3x3x6 to 7x7x18, giving a total of 195 possible pit sizes (counting e.g. 3x5x6 and 5x3x6 as identical). Three block sets are available — flat, basic, and extended — making a total of 585 possible game modes.
Under 'Main Menu', three of the possible 585 game configurations are recommended to the player. These are called 'Flat Fun', '3D Mania', and 'Out of Control', and use the flat, basic and extended block sets respectively. Other features of the game include:
Demo mode: This is not a pre-recorded game of an expert playing, but a well-programmed bot that plays a good game in any given setup. The bot finds smaller pits and more complex block sets more difficult, and achieves correspondingly lower scores.
Practice mode: A game where the pieces do not move down with time. The player can manipulate the pieces for as long as they like before dropping them into place with the space bar. This is very useful for beginners learning to navigate the 6 keys required to rotate in two directions around each of three axes. Practice mode scores are not recorded in the High Scores file.
More details about this game can be found on
Wikipedia
How to play:
Click on the joystick icon in the Blockout online emulator to see how to control the Blockout game