Tank 1990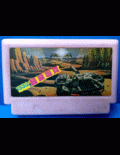 Game title:
Tank 1990
Platform:
Nintendo Entertainment System (NES)
Author:
Yanshan Software
Release:
1990
Genre:
Action, Shooter
Mode:
Multiplayer
Played:
203,139 times
Play Tank 1990 online in your browser without download and enjoy with RetroMania Online Emulator! Tank 1990 is classic game for NES has Action, Shooter genres for Nintendo Entertainment System (NES) retro console. If you love NES Online games you can also find other emulator games on our site.
Tank 1990 is a hack of Battle City made by Chinese bootleg company, Yanshan Software. The hack includes 15 hacks of Battle City, each labeled from A to N. Each of these hacks have a combination of new levels with different enemy waves. Enemy tanks have mixed abilities, like small tanks have armor like large tanks, large tanks appear without armor. New powerups are available, like the gun icon that instantly buffs the player tank and the ship icon where the player can move on water. Beware! Enemy tanks can pickup the powerups, too!
More details about this game can be found on
RomHacking
How to play:
Click on the joystick icon in the Tank 1990 online emulator to see how to control the Tank 1990 game