Pitfall!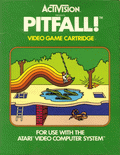 Game title:
Pitfall!
Platform:
Atari 2600
Author:
Activision
Release:
1982
Genre:
Action, Platform
Mode:
Single-player
Design:
David Crane
Game manual:
Atari2600Pitfall.pdf
Played:
331,604 times
Play Pitfall! online in your browser without download and enjoy with RetroMania Online Emulator! Pitfall! is classic game for Atari2600 has Action, Platform genres for Atari 2600 retro console. If you love Atari2600 Online games you can also find other emulator games on our site.
Pitfall! is a video game released by Activision for the Atari 2600 in 1982. It is the second best-selling game made for the Atari 2600 (after Pac-Man), with over 4 million copies sold.
The player must maneuver a character (Pitfall Harry) through a maze-like jungle in an attempt to recover 32 treasures in a 20-minute time period. Along the way, he must negotiate numerous hazards, including pits, quicksand, rolling logs, fire, rattlesnakes, scorpions, and crocodiles. Harry may jump over or otherwise avoid these obstacles by climbing, running, or swinging on vines. Treasure includes gold and silver bars, diamond rings, and bags of money. Under the jungle there is a tunnel which Harry can access through ladders found at various points. Travelling though the tunnel moves forward three screens at a time, which is necessary in order to collect all the treasures within the time limit. However, the tunnels are filled with dead-ends blocked by brick walls, forcing the player to return to the surface at one of the ladders, and try to find a way around again, thus wasting time. The tunnels also contain scorpions, which can harm Harry.
Pitfall! is considered one of the most influential games for the Atari 2600 system. It is a prototypical side-scrolling platform game, a genre which would dominate future 8-bit and 16-bit systems, and introduced features that would be common in future platform games, such as the ability to travel up and down on multiple levels of play. Both Pitfall! and its sequel Pitfall II: Lost Caverns have been included as playable easter eggs in several Call of Duty titles, such as Call of Duty: Infinite Warfare and Call of Duty: WWII.
More details about this game can be found on
Wikipedia
How to play:
Click on the joystick icon in the Pitfall! online emulator to see how to control the Pitfall! game