Street Fighter II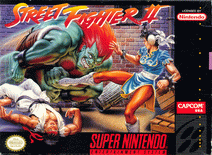 Game title:
Street Fighter II
Platform:
SNES
Author:
Capcom
Release:
1992
Genre:
Action, Fighting
Mode:
Multiplayer
Design:
Akira Nishitani, Akira Yasuda, Shinichi Ueyama, Yoshihiro Matsui
Music:
Yoko Shimomura, Isao Abe
Game manual:
Street_Fighter_II_-_Manual_-_SNS.pdf
Played:
1,286,867 times
Play Street Fighter II online in your browser without download and enjoy with RetroMania Online Emulator! Street Fighter II is classic game for SNES has Action, Fighting genres for SNES retro console. If you love SNES Online games you can also find other emulator games on our site.
Street Fighter II: The World Warrior is a competitive fighting game originally released for the arcades in 1991. It is the second entry in the Street Fighter series and the arcade sequel to the original Street Fighter released in 1987. It was Capcom's fourteenth title that ran on the CP System arcade hardware. Street Fighter II improved upon the many concepts introduced in the first game, including the use of command-based special moves and a six-button configuration, while offering players a selection of multiple playable characters, each with their own unique fighting style.
Street Fighter II follows several of the conventions and rules already established by its original 1987 predecessor. The player engages opponents in one-on-one close quarter combat in a series of best-two-out-of-three matches. The objective of each round is to deplete the opponent's vitality before the timer runs out. If both opponents knock each other out at the same time or the timer runs out with both fighters having an equal amount of vitality left, then a 'double KO' or 'draw game' is
declared and additional rounds will be played until sudden death. In the first Street Fighter II, a match could last up to ten rounds if there was no clear winner; this was reduced to four rounds in Champion Edition and onward. If there is no clear winner by the end of the final round, then either the computer-controlled opponent will win by default in a single-player match or both fighters will lose in a 2-player match.
After every third match in the single player mode, the player will participate in a bonus stage for additional points. The bonus games includes (in order) a car-breaking event similar to another bonus round featured in Final Fight; a barrel breaking bonus game where the barrels are dropped off from a conveyor belt on the top portion of the screen; and a drum-breaking bonus game where drums are flammable and piled over each other.
Like in the original, the game's controls uses a configuration of an eight-directional joystick and six attack buttons. The player uses the joystick to jump, crouch and move the character towards or away from the opponent, as well as to guard the character from an opponent's attacks. There are three punch buttons and three kick buttons of differing strength and speed (Light, Medium and Heavy). The player can perform a variety of basic moves in any position, including grabbing/throwing attacks, which were not featured in the original Street Fighter. Like in the original, the player can perform special moves by inputting a combination of directional and button-based commands.
Street Fighter II differs from its predecessor due to the selection of multiple playable characters, each with distinct fighting styles and special moves. A bug in the game's code enabled the player to 'cancel' during the animation of some moves by performing another move, allowing for a combination of several basic and special moves. This 'combo' system was later adopted as a standard feature of fighting games, and was expanded upon in subsequent Street Fighter installments.
More details about this game can be found on
Wikipedia
How to play:
Click on the joystick icon in the Street Fighter II online emulator to see how to control the Street Fighter II game