Magic Jewelry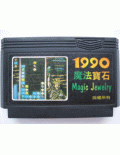 Game title:
Magic Jewelry
Platform:
Nintendo Entertainment System (NES)
Author:
RCM Group
Release:
1990
Genre:
Puzzle
Mode:
Single-player
Design:
Hwang Shinwei
Played:
281,804 times
Play Magic Jewelry online in your browser without download and enjoy with RetroMania Online Emulator! Magic Jewelry is classic game for NES has Puzzle genre for Nintendo Entertainment System (NES) retro console. If you love NES Online games you can also find other emulator games on our site.
Magic Jewelry is an unlicensed Nintendo NES tile-matching puzzle video game derivative to Columns, programmed in Taiwan by Hwang Shinwei and published by RCM in 1990. Like many Taiwanese low-sized unlicensed games, it is most commonly found on pirate Famicom/NES multicarts and systems which have many games. Multicarts and Famicom/NES clones usually remove copyright information, and Magic Jewelry is no exception, despite being unlicensed. Various unofficial remakes have been released for iOS and Android.
Magic Jewelry's gameplay resembles that of Columns and Dr. Mario, both of which released earlier in the same year. Sets of 3 or more matching coloured jewels must be lined up horizontally, vertically or diagonally in order to score points, while simultaneously removing said jewels. The jewels drop down in blocks of 3, and their positions in the blocks can be shifted freely until the block lands. After a certain number of jewels are cleared, a flashing 'X' block drops, which upon landing on a jewel clears out all other jewels of the same colour,
and the game advances to the next level, with the default drop speed of the blocks increasing. The game ends when a block is stacked with at least one jewel being over the top edge of the board.
In the game there are eight songs, some of which are repeated (after each 8 stages) with the different remixes. Seven of the eight songs are known to be renditions of existing songs:
Stage 1 (Level 0): 'All Kinds of Everything', by Dana.Stage 2 (Level 1): 'Huānlè Zhōngguó Jié' [Happy Chinese Festival].Stage 3 (Level 2): 'Lóng de Chuánrén' [Descendants of the Dragon], originally written by Hou Dejian and performed by Li Jian Fu, and later re sung by many Taiwanese singers (such as Fei Yu-ching and Leehom Wang).Stage 5 (Level 4): 'Jägerchor' (Hunters' Chorus), by Carl Maria von Weber.Stage 6 (Level 5): 'Moonlight on the Colorado', by Dick Robertson.Stage 7 (Level 6): 'Greensleeves'.Stage 8 (Level 7): 'Speak Softly Love', by Andy Williams.
Note: The 1st stage song ('All Kinds of Everything') was also used in Brush Roller, an unlicensed NES game also programmed by Hwang Shinwei in the same year (1990).
More details about this game can be found on
Wikipedia
How to play:
Click on the joystick icon in the Magic Jewelry online emulator to see how to control the Magic Jewelry game