Super C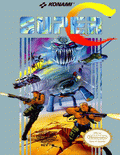 Game title:
Super C
Platform:
Nintendo Entertainment System (NES)
Author:
Konami
Release:
1990
Genre:
Action, Shooter, Platform
Mode:
Multiplayer
Design:
Hideyuki Tsujimoto, Shigeharu Umezaki, Eric Freytag
Music:
Kazuki Muraoka, Motoaki Furukawa, Hidenori Maezawa
Game manual:
NintendoNESSuperC.pdf
Played:
248,617 times
Play Super C online in your browser without download and enjoy with RetroMania Online Emulator! Super C is classic game for NES has Action, Shooter, Platform genres for Nintendo Entertainment System (NES) retro console. If you love NES Online games you can also find other emulator games on our site.
Super Contra is a Run and Gun-style action game produced by Konami, originally released as a coin-operated arcade game in 1988. It is the sequel to the original Contra and the second game in the Contra series released for the arcades. Like in the original game, the game centers on soldiers Bill Rizer and Lance Bean, who are once again assigned to protect the Earth from an army of alien invaders. The game features standard side-scrolling stages, as well as all new overhead stages in lieu of the original game's '3D' stages.
Like its predecessor, a modified console version was made for the Nintendo Entertainment System, which saw release in North America as Super C and in Europe and Australia as Probotector II: Return of the Evil Forces. Both the arcade game and the NES game, have been re-released in various other platforms since their original releases.
Set a year after the events of the original Contra, Bill and Lance, the heroes from the previous game, are sent on a second mission. This time, the alien forces from the previous game have taken over an allied military base, possessing most of its troops. Bill and Lance must not only fight against their former comrade-in-arms, but also a new mutated form of the same alien creatures they fought during their previous mission.
The arcade version of Super Contra plays essentially the same as its predecessor. The main difference was in its versatility. While the original Contra had two different perspectives (a side view and an over-the-shoulder view), Super Contra replaces the 3D stages with top-view stages similar to other overhead shooters at the time such as Commando and Ikari Warriors. Additionally, the side-view stages of Super Contra featured inclined surfaces, which were not in the original Contra. In the arcade version, the player can now control the height of their jump; by holding the joystick up and pressing the jump button will allow for a higher jump; likewise the player can perform low jumps as well by holding down-right or down-left while pressing the jump button. The arcade version is composed of five stages which spans a military base, a jungle and an alien lair. Stage 1, 3 and 4 are side-view stages, while Stage 2 and 5 are top-view stages.
More details about this game can be found on
Wikipedia
How to play:
Click on the joystick icon in the Super C online emulator to see how to control the Super C game