Dangerous Dave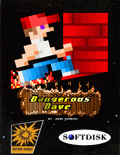 Game title:
Dangerous Dave
Platform:
MS-DOS
Author:
Uptime Disk Monthly
Release:
1988
Genre:
Action, Platform
Mode:
Single-player
Design:
John Romero
Played:
511,978 times
Play Dangerous Dave online in your browser without download and enjoy with RetroMania Online Emulator! Dangerous Dave is classic game for DOS has Action, Platform genres for MS-DOS retro console. If you love DOS Online games you can also find other emulator games on our site.
Dangerous Dave is a 1988 computer game by John Romero. It was developed for the Apple II and DOS as an example game to accompany his article about his GraBASIC, an Applesoft BASIC add-on, for the UpTime disk magazine.
The object of the game is to collect gold cups to move on to the next level. Guide Dave through ten terrifying levels as he tries to reclaim his trophies from a deserted pirate's hideout! This is a standard platform run and jump game although with only 10 levels it's meant to be more difficult than the usual. This game is in 16-color double-res mode on the Apple II and is essentially the same as the original Apple II hi-res version titled 'Dangerous Dave in the Deserted Pirate's Hideout'. Since the original 1988 publishing of Dangerous Dave on UpTime, there have been three sequels and three ports of the original to other platforms.
The idea for Dangerous Dave came to John Romero under the influence of Super Mario. There are similarities between the two games, such as the secret levels, the level design, the monsters, and the jumping. The mission is to guide Dave through ten levels, collecting trophies in the hideout of his enemy, Clyde. Romero says that among all Dangerous Dave sequels Dangerous Dave in the Haunted Mansion is 'the best Dave ever created'. In 2008 Dangerous Dave in the Haunted Mansion was ported to cell phones.
More details about this game can be found on
Wikipedia
How to play:
Click on the joystick icon in the Dangerous Dave online emulator to see how to control the Dangerous Dave game