Prehistorik 2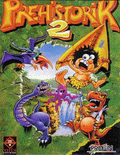 Game title:
Prehistorik 2
Platform:
MS-DOS
Author:
Titus
Release:
1993
Genre:
Action, Platform
Mode:
Single-player
Design:
Eric Zmiro
Music:
Thorsten Mitschele
Game manual:
Prehistorik_2_-_DOS_-_Manual.pdf
Played:
331,919 times
Play Prehistorik 2 online in your browser without download and enjoy with RetroMania Online Emulator! Prehistorik 2 is classic game for DOS has Action, Platform genres for MS-DOS retro console. If you love DOS Online games you can also find other emulator games on our site.
Prehistorik 2 is a sequel to the platform game Prehistorik. It was developed by Titus Interactive for DOS and Amstrad CPC in 1993. Like in its predecessor, the main character of Prehistorik 2 is a caveman who goes in quest for food, fighting various animals and humorous end of level bosses.
The game is a simple platform game where the player walks and jumps his/her way through the levels and whacks enemies in the head with a club.
Points can be collected by both whacking enemies and collecting items (including food, diamonds, video games, etc.). The levels contain hidden food items which can be discovered by hitting the right spots with the club.
The creators added a lot of detail to the game, which indeed increases the entertainment factor. If the player runs for a long distance and then stops, the caveman will be out of breath. Controlling the game is very simple, with only the four arrow keys for movement and the space bar as attack button. Instead of having to collect at least the right amount of food to be able to reach the next level as in Prehistorik, in Prehistorik 2 it is only required to get a lighter before the player can go to the next level. All in all, there are ten levels plus three bonus levels.
There are various hidden secrets in this game, one shows some extra credits, and there's even a collection of holiday photographs of the development team.
The game was later ported to the Game Boy as Prehistorik Man. A separate game, also titled Prehistorik Man, was released for the Super Nintendo Entertainment System. The Super NES game was in turn ported to the Game Boy Advance and the Nintendo DSi (as a DSiWare release), with the latter being released in North America on February 15, 2010.
More details about this game can be found on
Wikipedia
How to play:
Click on the joystick icon in the Prehistorik 2 online emulator to see how to control the Prehistorik 2 game