Mario and Luigi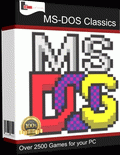 Game title:
Mario and Luigi
Platform:
MS-DOS
Author:
Wiering Software
Release:
1994
Genre:
Action, Platform
Mode:
Multiplayer
Design:
Mike Wiering
Played:
239,622 times
Play Mario and Luigi online in your browser without download and enjoy with RetroMania Online Emulator! Mario and Luigi is classic game for DOS has Action, Platform genres for MS-DOS retro console. If you love DOS Online games you can also find other emulator games on our site.
Mario & Luigi is an unofficial DOS remake of Super Mario Bros. Just like in the original game, it features Mario the plumber, jumping around, collecting pickups and defeating enemies across Mushroom Kingdom. Mario can find a mushroom which makes him grow, and a fire flower that allows him to shoot fireballs.
The game was written in Turbo Pacal. Mike Wiering wrote this game to practice VGA programming. His goal was to create a PC game with parallax scrolling layers, that would run smoothly on his 486 computer (25 MHz). He didn't plan to release this Mario game, instead use the engine to make other (more original) games.
During the game, you can walk with [Left] and [Right] and jump with [Alt]. Hold [Ctrl] down to run faster and jump further. Fire with [Space] (you can use [Up] or [Down] to aim while firing). Press [Down] at the end of a level to go down into the pipe. Finally, to quit the game, press [Esc].
The game has a total of 6 levels. Compared to the original Super Mario Bros it lacks background music, the main antagonist Bowser is missing, and at the end of the underground castle you won't find a princess, but only 'The End' label made out of golden coins. Also you won't find warp zones shortening the path between individual levels and other things known from the original game. 3 years later in 1997, Mike Wiering released a similar but significantly better game called Super Angelo.
More details about this game can be found on
MobyGames
How to play:
Click on the joystick icon in the Mario and Luigi online emulator to see how to control the Mario and Luigi game