Bomberman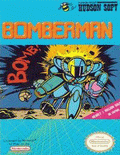 Game title:
Bomberman
Platform:
Nintendo Entertainment System (NES)
Author:
Hudson Soft
Release:
1985
Genre:
Action
Mode:
Single-player
Design:
Yuji Tanaka, Shinichi Nakamoto
Music:
Jun Chikuma
Game manual:
Bomberman_-_Manual_-_NES.pdf
Played:
2,132,679 times
Play Bomberman online in your browser without download and enjoy with RetroMania Online Emulator! Bomberman is classic game for NES has Action genre for Nintendo Entertainment System (NES) retro console. If you love NES Online games you can also find other emulator games on our site.
Bomberman is an arcade-style maze-based video game developed by Hudson Soft. The original home computer game Bomber Man was released in 1983 for the MSX, NEC PC-8801, NEC PC-6001, Sharp MZ-700 and FM-7 in Japan, and for the MSX and ZX Spectrum in Europe (in the UK as Eric and the Floaters, and in Spain as Don Pepe Y Los Globos). It had a Japanese sequel known as 3-D Bomberman, in which Bomberman navigates the maze in the first-person. In 1985, Bomberman was released for the Family Computer. It spawned the long-running series with many installments building on its basic gameplay. The earlier game Warp & Warp by Namco is most likely the inspiration for the Bomberman gameplay.
In the Famicom/NES release, the eponymous character, Bomberman, is a robot that must find his way through a maze while avoiding enemies. Doors leading to further maze rooms are found under rocks, which Bomberman must destroy with bombs. There are items that can help improve Bomberman's bombs, such as the Fire ability, which improves the blast range of his bombs. Bomberman will turn human when he escapes and reaches the surface. Each game has 50 levels in total. The original home computer games are more basic and have some different rules.
Bomberman was written in 1980 to serve as a tech demo for Hudson Soft's BASIC compiler. This very basic version of the game was given a small-scale release for Japanese PCs in 1983 and the European PCs the following year. The Famicom version was developed (ported) by Shinichi Nakamoto, who reputedly completed the task alone over a 72 hour period.
Bomberman is most known for the NES/Famicom version released in Japan on December 19, 1985 and in North America in 1987. Hudson Soft's director of research and development, Shinichi Nakamoto, commented in a 1995 interview that 'I personally believe that the Famicom version of Bomberman is the one and only version of the game.' This version was ported back to the MSX the following year as Bomberman Special. Bomberman's appearance in this game (Hudson Soft re-used an enemy graphic taken from their own 1984 NES/Famicom port of Broderbund's Lode Runner) is an early version of Bomberman's more famous design, a robotic anime-like character with a pink antenna. The game was also released on Game Boy as a 'Game B' mode of the game Atomic Punk. In 2004, this version of Bomberman was re-released for the Game Boy Advance as part of the Famicom Mini series in Japan and the Classic NES Series in North America and Europe.
More details about this game can be found on
Wikipedia
How to play:
Click on the joystick icon in the Bomberman online emulator to see how to control the Bomberman game