Prehistorik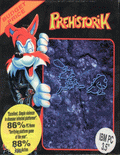 Game title:
Prehistorik
Platform:
MS-DOS
Author:
Titus
Release:
1991
Genre:
Action, Platform
Mode:
Single-player
Design:
Olivier Diaz, Jean‑Christophe Alessandri, Carlo Perconti
Music:
Michel Golgevit, Zorba Kouaik
Game manual:
Prehistorik_-_DOS_-_Manual.pdf
Played:
193,345 times
Play Prehistorik online in your browser without download and enjoy with RetroMania Online Emulator! Prehistorik is classic game for DOS has Action, Platform genres for MS-DOS retro console. If you love DOS Online games you can also find other emulator games on our site.
Prehistorik is a platform game developed by Titus Interactive for the Amiga, Atari ST, Amstrad CPC and DOS. Titus Interactive also published it, and released the game in 1991. The playable character is a neanderthal armed with a club. In a search for food, the neanderthal must hit dinosaurs and other animals that come in his way. Some hostile beings can't be beat, so the player must dodge them. A boss awaits in every even numbered level. There are seven levels.
Prehistorik received a rating of 85% from Amiga Action in August 1991, with the review stating 'after playing Prehistorik for a few minutes I was not disappointed. Graphics, sound and gameplay are all outstanding. My only complaint is that the puzzle element could have been taking (sic) a little further. A must for any platform or arcade fan.'
A sequel called Prehistorik 2 was released for DOS and Amstrad CPC. The sequel was also ported to numerous Nintendo systems and became a downloadable title for the Nintendo DSi in North America on February 15, 2010.
More details about this game can be found on
Wikipedia
How to play:
Click on the joystick icon in the Prehistorik online emulator to see how to control the Prehistorik game