Pole Position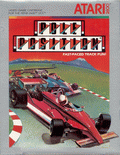 Game title:
Pole Position
Platform:
Atari 2600
Author:
Namco
Release:
1982
Genre:
Racing
Mode:
Single-player
Design:
Doug Macare
Game manual:
Atari2600PolePosition.pdf
Played:
93,501 times
Play Pole Position online in your browser without download and enjoy with RetroMania Online Emulator! Pole Position is classic game for Atari2600 has Racing genre for Atari 2600 retro console. If you love Atari2600 Online games you can also find other emulator games on our site.
Pole Position is an arcade racing video game which was released by Namco in 1982 and licensed to Atari, Inc. for US manufacture and distribution. It was designed by Tōru Iwatani, who had also designed the Gee Bee games and Pac-Man. It was the most popular coin-op arcade game of 1983. Pole Position was released in two configurations: a standard upright cabinet, and an environmental/cockpit cabinet. Both versions feature a steering wheel and a gear shifter for low and high gears, but the environmental/cockpit cabinet featured both an accelerator and a brake pedal, while the standard upright one only featured an accelerator pedal.
By 1983, it had become the highest-grossing arcade game that year in North America, where it had sold over 21,000 machines for $61 million, equivalent to $140 million in 2012. It was the most successful racing game of the classic era, spawning ports, sequels, and a Saturday morning cartoon. The game established the conventions of the racing game genre and its success inspired numerous imitators. Pole Position is thus regarded as one of the most influential video games of all time and 'arguably the most important racing game ever made.'
In this game, the player controls a Formula One race car, and has to complete a time trial lap within a certain amount of time (between 90 and 120 seconds) to qualify for an F1 race at the Fuji Racetrack. After qualifying, the player races against seven other CPU-controlled cars in a championship race (but if he or she does not qualify, the car will stay on the track until the timer runs out). The player must also avoid going off the road so that he or she will not crash into the billboards.
Pole Position was the first racing video game to feature a track based on a real racing circuit. It was also the first game to feature a qualifying lap, requiring the player to complete a time trial before they can compete in Grand Prix races. Once the player has qualified, they must complete the race in the time allowed, avoiding collisions with CPU-controlled opponents and billboards along the sides of the track. The game's publisher Atari publicized the game for its 'unbelievable driving realism' in providing a Formula 1 experience behind a racing wheel. The game's graphics featured full-colour landscapes with scaling sprites, including race cars and other signs, and a perspective view of the track, with its vanishing point swaying side to side as the player approaches corners, accurately simulating forward movement into the distance.
More details about this game can be found on
Wikipedia
How to play:
Click on the joystick icon in the Pole Position online emulator to see how to control the Pole Position game