Seaquest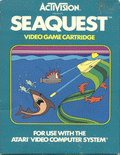 Game title:
Seaquest
Platform:
Atari 2600
Author:
Activision
Release:
1983
Genre:
Action, Shooter
Mode:
Single-player
Design:
Steve Cartwright
Game manual:
Atari2600Seaquest.pdf
Played:
77,474 times
Play Seaquest online in your browser without download and enjoy with RetroMania Online Emulator! Seaquest is classic game for Atari2600 has Action, Shooter genres for Atari 2600 retro console. If you love Atari2600 Online games you can also find other emulator games on our site.
Seaquest is an Atari 2600 video game designed by Steve Cartwright and published by Activision in 1983. Seaquest was made available on Microsoft's Game Room service for its Xbox 360 console and for Windows-based PCs on August 18, 2010.
Seaquest is a submarine combat game in which the player controls a water vessel and must avoid, collect, or destroy various objects at different levels of depth. The player must pick up divers under water and must get air from the surface before the air meter drains out. Like other Atari 2600 games, Seaquest features two modes. The first mode is a Single Player mode. In the second mode, Seaquest features a Multi-player mode.
More details about this game can be found on
Wikipedia
How to play:
Click on the joystick icon in the Seaquest online emulator to see how to control the Seaquest game