Space Cavern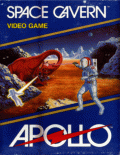 Game title:
Space Cavern
Platform:
Atari 2600
Author:
Apollo
Release:
1982
Genre:
Action, Shooter
Mode:
Multiplayer
Design:
Dan Oliver
Game manual:
Space_Cavern_-_Atari2600_-_Manual.pdf
Played:
66,767 times
Play Space Cavern online in your browser without download and enjoy with RetroMania Online Emulator! Space Cavern is classic game for Atari2600 has Action, Shooter genres for Atari 2600 retro console. If you love Atari2600 Online games you can also find other emulator games on our site.
Space Cavern is a 1982 shooter video game for the Atari 2600 developed and released by Games by Apollo. Players control a spaceship commander who has landed on a planet and must defend the ship against its hostile creatures. Games by Apollo founder Pat Roper was impressed by the game Demon Attack and tasked Apollo member Dan Oliver with making a game very similar to it. The game was later rereleased as Space Canyon.
In Space Cavern, players control the commander of an intergalactic spaceship that is traveling through a previously unknown area in space. The spaceship lands on a mysterious planet inhabited by creatures known as Electrosauri and Marsupods, who attempt to attack the crew of the ship.
The player character is situated at the bottom of the screen. Leftward and rightward movements of the joystick correspond to leftward and rightward movements of the character. Moving the joystick upward and downward induces the character to fire left and right respectively. Pressing the controller button results in the character firing upward. The player must shoot enemy creatures that come from the top and bottom before they shoot the player character. Enemy creatures fire beams that cause the player to lose a life whenever contact is made with the character. An extra life is awarded every 2,000 points; points are earned by destroying enemies, with 115 or 165 points awarded for killing an Electrosaurus and 200 points for a Marsupod.
There are twenty-four gameplay variations included in Space Cavern; all are playable by one or two players and activated by modifying the 2600's difficulty switches. The variations differ in the number of enemies, their speed, the direction of their lasers, and the inclusion of Marsupods.
More details about this game can be found on
Wikipedia
How to play:
Click on the joystick icon in the Space Cavern online emulator to see how to control the Space Cavern game