Space Invaders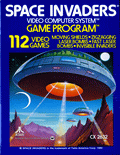 Game title:
Space Invaders
Platform:
Atari 2600
Author:
Taito
Release:
1978
Genre:
Action, Shooter
Mode:
Multiplayer
Design:
Tomohiro Nishikado
Game manual:
Atari2600SpaceInvaders.pdf
Played:
120,611 times
Play Space Invaders online in your browser without download and enjoy with RetroMania Online Emulator! Space Invaders is classic game for Atari2600 has Action, Shooter genres for Atari 2600 retro console. If you love Atari2600 Online games you can also find other emulator games on our site.
Space Invaders is an arcade video game developed by Tomohiro Nishikado and released in 1978. It was originally manufactured and sold by Taito in Japan, and was later licensed for production in the United States by the Midway division of Bally. Space Invaders is one of the earliest shooting games and the aim is to defeat waves of aliens with a laser cannon to earn as many points as possible. In designing the game, Nishikado drew inspiration from popular media: Breakout, The War of the Worlds, and Star Wars. To complete it, he had to design custom hardware and development tools.
It was one of the forerunners of modern video gaming and helped expand the video game industry from a novelty to a global industry (see golden age of video arcade games). When first released, Space Invaders was very successful.
The game has been the inspiration for other video games, re-released on numerous platforms, and led to several sequels. The 1980 Atari 2600 version quadrupled the system's sales and became the first 'killer app' for video game consoles. Space Invaders has been referenced and parodied in multiple television shows, and been a part of several video game and cultural exhibitions. The pixelated enemy alien has become a pop culture icon, often used as a synecdoche representing video games as a whole.
Space Invaders is a two-dimensional fixed shooter game in which the player controls a laser cannon by moving it horizontally across the bottom of the screen and firing at descending aliens. The aim is to defeat five rows of eleven aliens—some versions feature different numbers—that move horizontally back and forth across the screen as they advance towards the bottom of the screen. The player defeats an alien, and earns points, by shooting it with the laser cannon. As more aliens are defeated, the aliens' movement and the game's music both speed up. Defeating the aliens brings another wave that is more difficult, a loop which can continue without end.
The aliens attempt to destroy the cannon by firing at it while they approach the bottom of the screen. If they reach the bottom, the alien invasion is successful and the game ends. A special 'mystery ship' will occasionally move across the top of the screen and award bonus points if destroyed. The laser cannon is partially protected by several stationary defense bunkers—the number varies by version—that are gradually destroyed by projectiles from the aliens and player.
More details about this game can be found on
Wikipedia
How to play:
Click on the joystick icon in the Space Invaders online emulator to see how to control the Space Invaders game