The Activision Decathlon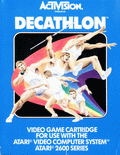 Game title:
The Activision Decathlon
Platform:
Atari 2600
Author:
Activision
Release:
1983
Genre:
Action, Sport
Mode:
Multiplayer
Design:
David Crane
Game manual:
Atari2600_-_Decathlon_-_Manual.pdf
Played:
63,965 times
Play The Activision Decathlon online in your browser without download and enjoy with RetroMania Online Emulator! The Activision Decathlon is classic game for Atari2600 has Action, Sport genres for Atari 2600 retro console. If you love Atari2600 Online games you can also find other emulator games on our site.
The Activision Decathlon is a sports game for the Atari 8-bit, Atari 2600, Atari 5200, Commodore 64, ColecoVision and MSX platforms. Up to four players compete in the ten different events of a real-life decathlon, either in sequence or individually. The game became somewhat notorious for the amount of wear or damage inflicted upon console controllers, namely the Atari 2600 version where rapid back-and-forth movement of the joystick propels the athlete down the track. The game was later reissued simply as Decathlon by the UK budget label Firebird. It was subsequently featured on the PlayStation 2 compilation Activision Anthology.
Events:
100-Meter DashLong JumpShot PutHigh Jump400-Meter Race110-Meter HurdlesDiscus ThrowPole VaultJavelin Throw1500-Meter Race
More details about this game can be found on
Wikipedia
How to play:
Click on the joystick icon in the The Activision Decathlon online emulator to see how to control the The Activision Decathlon game