Asteroids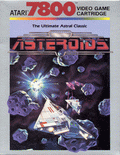 Game title:
Asteroids
Platform:
Atari 7800
Author:
Atari Inc.
Release:
1979
Genre:
Action, Shooter
Mode:
Multiplayer
Design:
Ed Logg, Lyle Rains, Bradley G. Stewart
Game manual:
Asteroids_-_Atari7800_-_Manual.pdf
Played:
69,581 times
Play Asteroids online in your browser without download and enjoy with RetroMania Online Emulator! Asteroids is classic game for Atari7800 has Action, Shooter genres for Atari 7800 retro console. If you love Atari7800 Online games you can also find other emulator games on our site.
Asteroids is an arcade space shooter released in November 1979 by Atari, Inc. and designed by Lyle Rains and Ed Logg. The player controls a spaceship in an asteroid field which is periodically traversed by flying saucers. The object of the game is to shoot and destroy asteroids and saucers while not colliding with either, or being hit by the saucers' counter-fire. The game becomes harder as the number of asteroids increases.
Asteroids was conceived during a meeting between Logg and Rains and used hardware developed by Howard Delman previously used for Lunar Lander. Based on an unfinished game titled Cosmos and inspired by Spacewar! and Computer Space, both early shoot 'em up video games, Asteroids' physics model and control scheme were derived by Logg from these earlier games and refined through trial and error. The game is rendered on a vector display in a two-dimensional view that wraps around in both screen axes.
Acclaimed by players and video game critics for its vector graphics, controls, and addictive gameplay, Asteroids was one of the first major hits of the golden age of arcade games. The game sold over 70,000 arcade cabinets and proved both popular with players and influential with developers. It has since been ported to multiple platforms. Asteroids was widely imitated and directly influenced two popular and often cloned arcade games, Defender and Gravitar, as well as many other video games.
The objective of Asteroids is to destroy asteroids and saucers. The player controls a triangular ship that can rotate left and right, fire shots straight forward, and thrust forward. Once the ship begins moving in a direction, it will continue in that direction for a time without player intervention unless the player applies thrust in a different direction. The ship eventually comes to a stop when not thrusting. The player can also send the ship into hyperspace, causing it to disappear and reappear in a random location on the screen, at the risk of self-destructing or appearing on top of an asteroid.
Each level starts with a few large asteroids drifting in various directions on the screen. Objects wrap around screen edges – for instance, an asteroid that drifts off the top edge of the screen reappears at the bottom and continues moving in the same direction. As the player shoots asteroids, they break into smaller asteroids that move faster and are more difficult to hit. Smaller asteroids are also worth more points. Two flying saucers appear periodically on the screen; the 'big saucer' shoots randomly and poorly, while the 'small saucer' fires frequently at the ship. After reaching a score of 40,000, only the small saucer appears. As the player's score increases, the angle range of the shots from the small saucer diminishes until the saucer fires extremely accurately. Once the screen has been cleared of all asteroids and flying saucers, a new set of large asteroids appears, thus starting the next level. The game gets harder as the number of asteroids increases until after the score reaches a range between 40,000 and 60,000. The player starts with 3 lives after a coin is inserted and gains an extra life every 10,000 points. When the player loses all his lives, the game ends.
More details about this game can be found on
Wikipedia
How to play:
Click on the joystick icon in the Asteroids online emulator to see how to control the Asteroids game