Basketbrawl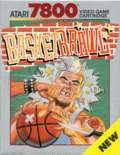 Game title:
Basketbrawl
Platform:
Atari 7800
Author:
Atari
Release:
1990
Genre:
Sport
Mode:
Multiplayer
Design:
David Axt, John Hamilton, Craig Erickson, Jennifer Hamilton
Music:
Matt Scott
Game manual:
Basketbrawl_-_Atari7800_-_Manual.pdf
Played:
13,931 times
Play Basketbrawl online in your browser without download and enjoy with RetroMania Online Emulator! Basketbrawl is classic game for Atari7800 has Sport genre for Atari 7800 retro console. If you love Atari7800 Online games you can also find other emulator games on our site.
Basketbrawl is a video game released for the Atari 7800 in 1990, then later for the Atari Lynx in 1992. It is a sports simulation which allows hitting and fighting with other players. The name is a portmanteau of the words basketball and brawl. Basketbrawl is similar to the 1989 Midway arcade game Arch Rivals which had the tagline 'A basket brawl!'
In a desperate attempt to stop inner-city gang wars, the city leaders organized a basketball league. The league is scheduled to play on three courts: a street, a junkyard, and a rooftop. The mayor figured that a friendly game of hoops would be a much more peaceful way to settle disputes. He was wrong.
You can choose 1-on-1 or 2-on-2 game modes. There are six characters to choose from (ten in Atari Lynx version); each with their own health, speed, and power attributes. Each player without the ball can jump to block a shot or punch there opponent to get the ball. There's also an option to perform a power throw on an opposing player. Players with the ball can shoot or pass. Power ups appear on the court at random instances. These power up one attribute for the player. For example, the lightning power up increases the player's speed.
The referee does not call fouls, but does hurl knives at the players.
More details about this game can be found on
Wikipedia
How to play:
Click on the joystick icon in the Basketbrawl online emulator to see how to control the Basketbrawl game