F-18 Hornet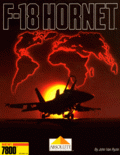 Game title:
F-18 Hornet
Platform:
Atari 7800
Author:
Imagineering
Release:
1988
Genre:
Action, Shooter, Simulator
Mode:
Single-player
Design:
John Van Ryzin, Bill Wentworth
Game manual:
F-18_Hornet_-_Atari7800_-_Manual.pdf
Played:
13,104 times
Play F-18 Hornet online in your browser without download and enjoy with RetroMania Online Emulator! F-18 Hornet is classic game for Atari7800 has Action, Shooter, Simulator genres for Atari 7800 retro console. If you love Atari7800 Online games you can also find other emulator games on our site.
F-18 Hornet is a one-player fighter simulator in which the player pilots a Navy F-18/A Jet through a series of simulated combat situations including carrier take-offs and landings, bombings, strafings, and air combat.
In each of four missions, you are confronted with a variety of opponents and must perform a series of combat objectives in order from the Naval Aviator rank.
More details about this game can be found on
MobyGames
How to play:
Click on the joystick icon in the F-18 Hornet online emulator to see how to control the F-18 Hornet game