Fatal Run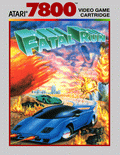 Game title:
Fatal Run
Platform:
Atari 7800
Author:
Sculptured Software
Release:
1989
Genre:
Racing
Mode:
Single-player
Design:
Steve Aguirre, Adam T. Clayton, David Clayton
Music:
Paul Webb
Game manual:
Fatal_Run_-_Atari7800_-_Manual.pdf
Played:
10,837 times
Play Fatal Run online in your browser without download and enjoy with RetroMania Online Emulator! Fatal Run is classic game for Atari7800 has Racing genre for Atari 7800 retro console. If you love Atari7800 Online games you can also find other emulator games on our site.
In this post-apocalyptic driving/racing game you must travel to various towns delivering medicine, while on your way to a missile base which houses a rocket that can save the world. While driving through the 32 levels, you'll meet countless enemies who want to stop you from achieving your goal. Your car boasts many weapons to help you out, including dynamite, rockets, oil slicks, smoke screens, and machine guns. You can also upgrade your vehicle within the city shops. Upgrading your gas tank provides better mileage while upgrading your bumper protects you during collisions. A password feature let's you continue where you left off.
More details about this game can be found on
MobyGames
How to play:
Click on the joystick icon in the Fatal Run online emulator to see how to control the Fatal Run game