Fight Night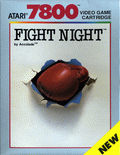 Game title:
Fight Night
Platform:
Atari 7800
Author:
Sydney Development, Accolade
Release:
1985
Genre:
Action, Sport, Fighting
Mode:
Single-player
Design:
Amory Wong, Ron Panthaky, Geoff Corey
Music:
Gail Bergen
Game manual:
Fight_Night_-_Atari7800_-_Manual.pdf
Played:
16,607 times
Play Fight Night online in your browser without download and enjoy with RetroMania Online Emulator! Fight Night is classic game for Atari7800 has Action, Sport, Fighting genres for Atari 7800 retro console. If you love Atari7800 Online games you can also find other emulator games on our site.
Fight Night is a boxing game in which players box 11 different opponents on the way to the final match with the champ, Bronx Bomber. Each boxer has unique strengths and weaknesses, along with one specialised 'super punch'. There are four different modes of play; the single-player Main Event and the multi-player Tournament (on disk/cartridge versions only), and also Training and Sparring modes. Players can also create their own boxer, setting the appearance and abilities.
More details about this game can be found on
MobyGames
How to play:
Click on the joystick icon in the Fight Night online emulator to see how to control the Fight Night game