Mat Mania Challenge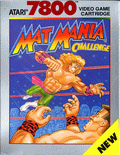 Play Mat Mania Challenge online in your browser without download and enjoy with RetroMania Online Emulator! Mat Mania Challenge is classic game for Atari7800 has Action, Sport, Fighting genres for Atari 7800 retro console. If you love Atari7800 Online games you can also find other emulator games on our site.
Mat Mania Challenge is the sequel to the wrestling game Mat Mania. The gameplay and features (including the moves of the wrestlers, except for the addition of a drop kick) are completely identical. The most important addition is a versus mode against another human players. The unnamed wrestler protagonist from the original version is now called Dynamite Tommy. In the versus mode he only can fight a clone character with identical moves known as Hurricane Joe.
In the single-player mode the roster from the original game has been made smaller. Dynamite Tommy has to fight Insane Warrior, Golden Hulk and Hurricane Joe (except when continuing a two-player game in single-player as Joe, then Tommy is an opponent). The three other wrestlers Karate Fighter, Coco Savage and The Pirania are no longer available as opponents. After completing the game all three of them can be fought again in an endless loop.
The later released Atari 7800 version has some differences in the graphics and includes different difficulty levels for the single-player mode.
More details about this game can be found on
MobyGames
How to play:
Click on the joystick icon in the Mat Mania Challenge online emulator to see how to control the Mat Mania Challenge game