Ninja Golf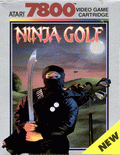 Game title:
Ninja Golf
Platform:
Atari 7800
Author:
BlueSky Software
Release:
1990
Genre:
Action, Platform, Fighting
Mode:
Single-player
Design:
David Dentt, David R. Sullivan
Game manual:
Ninja_Golf_-_Atari7800_-_Manual.pdf
Played:
51,493 times
Play Ninja Golf online in your browser without download and enjoy with RetroMania Online Emulator! Ninja Golf is classic game for Atari7800 has Action, Platform, Fighting genres for Atari 7800 retro console. If you love Atari7800 Online games you can also find other emulator games on our site.
Ninja Golf is an Atari 7800 video game which combines scrolling beat 'em up and golf gameplay. Released in 1990, it later gained some renown for its outlandish subject matter and unique blend of gameplay styles. It was one of the final 11 games Atari released in 1990-91 for the 7800 before dropping support for that system.
The player starts each hole by aiming his ball and shooting it toward the green. He then runs toward the ball, in traditional sidescroller fashion, fighting various enemies encountered along the way. These enemies include other ninjas, gophers, birds, giant mutant frogs, sharks and more.
The enemies faced depends on the environment the ninja golfer is currently in. Sharks are encountered in water hazards and snakes in the sand traps. Ninjas are encountered in all the environments, including underwater.
More details about this game can be found on
Wikipedia
How to play:
Click on the joystick icon in the Ninja Golf online emulator to see how to control the Ninja Golf game