One-On-One Basketball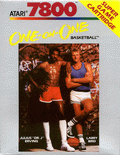 Game title:
One-On-One Basketball
Platform:
Atari 7800
Author:
Electronic Arts
Release:
1983
Genre:
Sport
Mode:
Multiplayer
Design:
Eric Hammond
Game manual:
One-on-One_-_Atari7800_-_Manual.pdf
Played:
16,840 times
Play One-On-One Basketball online in your browser without download and enjoy with RetroMania Online Emulator! One-On-One Basketball is classic game for Atari7800 has Sport genre for Atari 7800 retro console. If you love Atari7800 Online games you can also find other emulator games on our site.
Dr. J and Larry Bird Go One on One, commonly known as One on One, is a 1983 computer basketball game written by Eric Hammond for the Apple II and published by Electronic Arts. It was ported to the Atari 8-bit family, ColecoVision, Commodore 64, MS-DOS, Tandy Color Computer, and later to the Macintosh, Amiga, and Atari 7800. In Europe the publisher was Ariolasoft.
The player controls basketball star Julius Erving or Larry Bird in a game of one-on-one against another player or the computer. With excellent animation, the game allows for play to a certain score or timed games. On offense, a player could spin or shoot; on defense, attempt to block or steal the ball, with over aggressiveness penalized by fouls. A hard dunk could shatter the backboard, prompting a janitor to come out and sweep up the shards, directing censored complaints at the player in the process.
More details about this game can be found on
Wikipedia
How to play:
Click on the joystick icon in the One-On-One Basketball online emulator to see how to control the One-On-One Basketball game