Pole Position II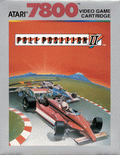 Game title:
Pole Position II
Platform:
Atari 7800
Author:
Namco
Release:
1983
Genre:
Racing
Mode:
Single-player
Design:
John Carney, Greg Holland, Rob Howard, Raymond Bradley
Game manual:
Pole_Position_II_-_Atari7800_-_Manual.pdf
Played:
45,107 times
Play Pole Position II online in your browser without download and enjoy with RetroMania Online Emulator! Pole Position II is classic game for Atari7800 has Racing genre for Atari 7800 retro console. If you love Atari7800 Online games you can also find other emulator games on our site.
Pole Position II is a racing arcade game, released by Namco in 1983. It runs on Namco Pole Position hardware - and as the name suggests, it is the sequel to Pole Position, which was released in the previous year. As with its predecessor, Namco licensed this game to Atari for US manufacture and distribution, who also released a port of it as the pack-in game for their Atari 7800 Prosystem console.
The gameplay is very much like that of the original Pole Position, except that this time there are slightly improved graphics, a new opening theme, and in addition to the original Fuji racetrack, there are three others to choose from: Test (resembling Indianapolis Motor Speedway), Seaside (resembling the 1982 United States Grand Prix West circuit in Long Beach) and Suzuka. The cars also have a different color scheme and the explosions now show debris, while several new billboards have also been introduced. One notable difference between the Japanese and American versions is that while the timer is displayed as 'TIME' in the Japanese version (as it was in the original game), it is displayed as 'UNIT' in the American version; the reason behind this is unknown.
More details about this game can be found on
Wikipedia
How to play:
Click on the joystick icon in the Pole Position II online emulator to see how to control the Pole Position II game