Tank Command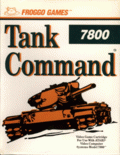 Game title:
Tank Command
Platform:
Atari 7800
Author:
Froggo Games
Release:
1988
Genre:
Action, Shooter
Mode:
Single-player
Game manual:
Tank_Command_-_Atari7800_-_Manual.pdf
Played:
11,326 times
Play Tank Command online in your browser without download and enjoy with RetroMania Online Emulator! Tank Command is classic game for Atari7800 has Action, Shooter genres for Atari 7800 retro console. If you love Atari7800 Online games you can also find other emulator games on our site.
Tank Command is a vertically scrolling action game. You control a tank on a mission to capture the enemy flag as well as earn as many points as possible. To do this, you will need to blast your way through their defenses on three levels of increasing difficulty. Blocking your progress are enemy tanks, pillboxes, missiles, jeeps, infantry, huts, and more, all of which earn you points when destroyed. Your tank is equipped with a limited amount of fuel and ammo, however it can be replenished occasionally by collecting the bonus icons when they appear on the screen. If you can make it past all of the obstacles and capture the flag, then you win the game!
More details about this game can be found on
MobyGames
How to play:
Click on the joystick icon in the Tank Command online emulator to see how to control the Tank Command game