Winter Games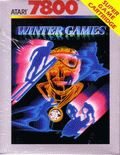 Game title:
Winter Games
Platform:
Atari 7800
Author:
Epyx Inc.
Release:
1985
Genre:
Action, Sport
Mode:
Multiplayer
Design:
Richard A. Ditton, Elaine Hodgson, Timothy Skelly
Music:
David Thiel, Kenichi Tomizawa
Game manual:
Winter_Games_-_Atari7800_-_Manual.pdf
Played:
12,055 times
Play Winter Games online in your browser without download and enjoy with RetroMania Online Emulator! Winter Games is classic game for Atari7800 has Action, Sport genres for Atari 7800 retro console. If you love Atari7800 Online games you can also find other emulator games on our site.
Winter Games is a sports video game developed by Epyx (and released in Europe by U.S. Gold), based on sports featured in the Winter Olympic Games. A snow-and-ice themed follow-up to the highly successful Summer Games, Winter Games was released in 1985 for the Commodore 64 and later ported to several popular home computers and video game consoles of the 1980s. The game was presented as a virtual multi-sport carnival called the 'Epyx Winter Games' (there was no official IOC licensing in place) with up to 8 players each choosing a country to represent, and then taking turns competing in various events to try for a medal.
The events available vary slightly depending on the platform, but include some or all of the following:
Alpine skiingSki jumpingBiathlonBobsledFigure skatingSpeed skatingLugeFreestyle skiing; more precisely, the aerial skiing discipline, called 'Hot Dog Aerials' in the game
The game allowed you to compete in all of the events sequentially, choose a few events, choose just one event, or practice an event.
More details about this game can be found on
Wikipedia
How to play:
Click on the joystick icon in the Winter Games online emulator to see how to control the Winter Games game