Atomix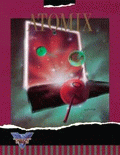 Game title:
Atomix
Platform:
MS-DOS
Author:
Thalion Software
Release:
1990
Genre:
Puzzle
Mode:
Multiplayer
Design:
Henrik Nordhaus
Game manual:
Atomix_-_Manual_-_PC.pdf
Played:
67,092 times
Play Atomix online in your browser without download and enjoy with RetroMania Online Emulator! Atomix is classic game for DOS has Puzzle genre for MS-DOS retro console. If you love DOS Online games you can also find other emulator games on our site.
Atomix is a transport puzzle video game developed by Günter Krämer (as 'Softtouch') and published by Thalion Software, released for the Commodore Amiga and other personal computers in late 1990. The object of the game is to assemble molecules from compound atoms by moving the atoms on a two-dimensional playfield.
Atomix was received positively; reviewers noted the game's addictiveness and enjoyable gameplay, though criticized its repetitiveness.
Atomix takes place on a playfield, consisting of a number of walls, with the atoms scattered throughout. The player is tasked with assembling a molecule from the atoms; more specifically, the atoms must be arranged into a specific shape, identical with the shape of the molecule displayed on the left side of the screen. The player can choose an atom and move it in any of the four cardinal directions; however, a moved atom keeps sliding in one direction until it hits a wall or another atom. Solving the puzzles requires strategic planning in moving the atoms, and on later levels with little free space, even finding room for the completed molecule can be a problem. Once the molecule is assembled, the player receives score; the faster the puzzle is completed, the more score is given.
Each puzzle must be completed within a time limit; otherwise the game ends, though the player can spend some of his score to restart the failed puzzle instead. The entire game consists of 30 puzzles of increasing difficulty. In addition, after every five puzzles, there is a bonus level where the player must move laboratory flasks filled with various amount of liquid to arrange them from empty to full.
The game also offers a two-player mode, where two players are working on the same puzzle; they are taking turns which last up to thirty seconds.
More details about this game can be found on
Wikipedia
How to play:
Click on the joystick icon in the Atomix online emulator to see how to control the Atomix game