Grand Prix Circuit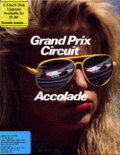 Game title:
Grand Prix Circuit
Platform:
MS-DOS
Author:
Accolade
Release:
1988
Genre:
Racing
Mode:
Single-player
Design:
Don A. Mattrick, Brad Gour, John Boechler, Tony Lee, Eric Pauker, Brad Gour
Music:
Eric Pauker, Krisjan Hatlelid
Played:
179,247 times
Play Grand Prix Circuit online in your browser without download and enjoy with RetroMania Online Emulator! Grand Prix Circuit is classic game for DOS has Racing genre for MS-DOS retro console. If you love DOS Online games you can also find other emulator games on our site.
Grand Prix Circuit is a racing video game developed by Distinctive Software and published by Accolade for MS-DOS com­pa­tib­le operating systems in 1988. It was ported to the Amiga, Amstrad CPC, Apple IIGS, Commodore 64, and ZX Spectrum. Players can choose from three different cars in the game. They are:
More details about this game can be found on
Wikipedia
How to play:
Click on the joystick icon in the Grand Prix Circuit online emulator to see how to control the Grand Prix Circuit game