Indianapolis 500: The Simulation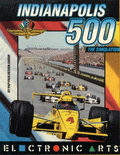 Game title:
Indianapolis 500: The Simulation
Platform:
MS-DOS
Author:
Electronic Arts
Release:
1989
Genre:
Racing
Mode:
Single-player
Design:
David Kaemmer, Richard Garcia, Wilfredo Aguilar
Music:
Rob Hubbard
Played:
105,366 times
Play Indianapolis 500: The Simulation online in your browser without download and enjoy with RetroMania Online Emulator! Indianapolis 500: The Simulation is classic game for DOS has Racing genre for MS-DOS retro console. If you love DOS Online games you can also find other emulator games on our site.
Indianapolis 500: The Simulation is a 1989 computer game. It was hailed as the first step of differentiating racing games from the arcade realm and into racing simulation. It was developed by the Papyrus Design Group, consisting of David Kaemmer and Omar Khudari, and distributed by Electronic Arts. It first released for DOS and later for the Amiga in 1990.
Indianapolis 500: The Simulation attempts to be a full simulation of the Indianapolis 500 race, with 33 cars and appropriate Indy car 'feel'. While racing, it only offers a first-person perspective, but the game offers a replay mode as well. Indy 500 offers the ability to realistically set up the car, and any changes made to the car directly affect how it handles. The field is represented as realistic and the qualifying order stays true to the 1989 Indianapolis 500 starting grid, with one exception: the player's car, numbered 17, replaces Car #29 of Rich Vogler, who qualified in 33rd and last place.
The game offers four race settings:
10-lap race (no damage, no yellow flags)30-lap race (no damage)60-lap race200-lap race
There are also practice and qualifying settings. Practice enables car setups to be altered and tested in real time. Choosing not to participate in the qualifying session results in one starting at the back of the field. The qualifying session requires four laps to be completed, with the mean value of the four lap times determining the qualifying position. No car damage can occur during a Practice session, although other cars may be present on the track and their wreckage remains on the track if the player's car collides with them at any point. Car damage can occur during qualifying sessions.
The cars one can drive are a yellow Penske-Chevrolet, a red Lola-Buick, or a blue March-Cosworth, with the Penske having the fastest default setup (but if one sets the car up well, any of the above racecars can compete effectively). Various settings can be changed during Practice from menus associated with Function keys F3–F10. One's own car is always numbered 17.
Indy 500's theme music was produced by Rob Hubbard, who at the time was new to Electronic Arts as a music director.
More details about this game can be found on
Wikipedia
How to play:
Click on the joystick icon in the Indianapolis 500: The Simulation online emulator to see how to control the Indianapolis 500: The Simulation game