QBasic Gorillas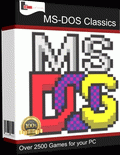 Game title:
QBasic Gorillas
Platform:
MS-DOS
Author:
Microsoft Corporation
Release:
1991
Genre:
Strategy
Mode:
Multiplayer
Played:
64,725 times
Play QBasic Gorillas online in your browser without download and enjoy with RetroMania Online Emulator! QBasic Gorillas is classic game for DOS has Strategy genre for MS-DOS retro console. If you love DOS Online games you can also find other emulator games on our site.
Gorillas was a video game first distributed with MS-DOS 5 and published in 1991 by IBM corporation. It is a turn-based artillery game. The game consists of two gorillas throwing explosive bananas at each other above a city skyline. The players can adjust the angle and velocity of each throw, as well as the gravitational pull of the planet. Written in QBasic, it is one of the programs included as a demonstration of that programming language. The others are Nibbles (another game), Money (a very simple financial calculator), and REMLINE (a program to remove line numbers from old BASIC programs).
More details about this game can be found on
Wikipedia
How to play:
Click on the joystick icon in the QBasic Gorillas online emulator to see how to control the QBasic Gorillas game