SimCity 2000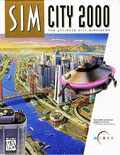 Game title:
SimCity 2000
Platform:
MS-DOS
Author:
Maxis Software
Release:
1993
Genre:
Simulator, Strategy
Mode:
Single-player
Design:
Fred Haslam, Will Wright, Daniel Browning, Bonnie Borucki
Music:
Brian Conrad, Sue Kasper, Justin McCormick
Game manual:
SimCity_2000_-_Manual_-_PC.pdf
Play SimCity 2000 online in your browser without download and enjoy with RetroMania Online Emulator! SimCity 2000 is classic game for DOS has Simulator, Strategy genres for MS-DOS retro console. If you love DOS Online games you can also find other emulator games on our site.
SimCity 2000 (SC2K) is a city-building simulation video game and the second installment in the SimCity series. SimCity 2000 was first released by Maxis in 1994 for computers running Apple Macintosh Operating System. It was later released on the Amiga, DOS & Microsoft Windows, followed by a release for OS/2. In 1995, SimCity 2000 won 'Best Military or Strategy Computer Game' Origins Award.
The unexpected and enduring success of the original SimCity, combined with the relative lack of success with other 'Sim' titles, finally motivated the development of a sequel. SimCity 2000 was a major extension of the concept; the view was now dimetric instead of overhead, land could have different elevations, and underground layers were introduced for water pipes and subways.
New types of facilities include prisons, schools, libraries, museums, marinas, hospitals and arcologies. Players can build highways, roads, bus depots, railway tracks, subways, train depots and zone land for seaports and airports. There are a total of nine varieties of power plants in SimCity 2000, including coal, oil, natural gas, nuclear, wind turbines, hydroelectric dams (which can only be placed on waterfall tiles), solar and the futuristic fusion power and satellite microwave plant. Most types of power plants have a limited life span and must be rebuilt periodically. Players can build highways to neighboring cities to increase trade and the population.
The budget and finance controls are also much more elaborate—tax rates can be set individually for residential, commercial and industrial zones. Enacting city ordinances and connecting to neighboring cities became possible. The budget controls are very important in running the city effectively.
Another new addition in SimCity 2000 is the query tool. Using the query tool on tiles reveals information such as structure name and type, altitude, and land value. Certain tiles also display additional information; power plants, for example, display the percentage of power being consumed when queried, and querying roads displays the amount of traffic on that tile. Querying a library and selecting 'Ruminate' displays an essay written by Neil Gaiman.
Graphics were added for buildings under construction in the residential, commercial, and industrial zones, as well as darkened buildings depicting abandoned buildings as a result of urban decay.
More details about this game can be found on
Wikipedia
How to play:
Click on the joystick icon in the SimCity 2000 online emulator to see how to control the SimCity 2000 game