Spear of Destiny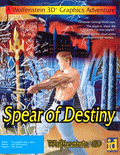 Game title:
Spear of Destiny
Platform:
MS-DOS
Author:
id Software
Release:
1992
Genre:
Action, Shooter
Mode:
Single-player
Design:
John Carmack, John Romero, Adrian Carmack
Music:
Robert Prince
Game manual:
Spear_of_Destiny_-_DOS_-_Manual.pdf
Played:
96,547 times
Play Spear of Destiny online in your browser without download and enjoy with RetroMania Online Emulator! Spear of Destiny is classic game for DOS has Action, Shooter genres for MS-DOS retro console. If you love DOS Online games you can also find other emulator games on our site.
Spear of Destiny, often also called Spear, Wolfenstein 3D: Spear of Destiny or just SoD, is a 1992 first-person shooter computer game developed by id Software and published by FormGen Corporation, and is the prequel to id Software's Wolfenstein 3D. As in Wolfenstein 3D, the player assumes the role of allied spy William 'B.J.' Blazkowicz, on a mission trying to recapture the Spear of Destiny from the Nazis after it was stolen from Versailles.
The game consists of a single story-line episode, divided into 21 levels, 19 of which must be completed to win the game. The remaining two are secret levels that can be accessed from within the first 18. The gameplay is comparable to that of Wolfenstein 3D, which uses the same game engine. The levels are divided into four blocks (focusing respectively on the castle's tunnels, dungeons, main keep, and ramparts), each ending with the player having to defeat a 'boss'.
Unlike Wolfenstein 3D, the game did not include a shareware version; however, a 2-level playable demo was distributed.
More details about this game can be found on
Wikipedia
How to play:
Click on the joystick icon in the Spear of Destiny online emulator to see how to control the Spear of Destiny game