Stunts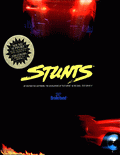 Game title:
Stunts
Platform:
MS-DOS
Author:
Brøderbund Software
Release:
1990
Genre:
Racing
Mode:
Single-player
Design:
Don A. Mattrick, Kevin P. Pickell, Brad Gour, Rob Martyn, Stanley Chow
Music:
Michael J. Sokyrka, Krisjan Hatlelid, Brian Plank
Played:
88,974 times
Play Stunts online in your browser without download and enjoy with RetroMania Online Emulator! Stunts is classic game for DOS has Racing genre for MS-DOS retro console. If you love DOS Online games you can also find other emulator games on our site.
Stunts (also known as 4D Sports Driving) is an early 3D racing video game developed by Distinctive Software, Inc.. The game places emphasis on racing on stunt tracks and features a track editor, it is clearly influenced by the earlier arcade game Hard Drivin' and has many similar elements to the game Stunt Driver which was released around the same time.
In Stunts, players race a lap around the circuit, with the aim of completing the lap as quickly as possible without crashing. However, these laps often feature special track areas such as loops, jumps (including over tall buildings), slalom roads and corkscrews. The game area is restricted by a large fixed size square area defined and surrounded by a fence which the game is designed to prevent the player from leaving. Players can either race against the clock or choose between six different opponents; there is no support for real-time multiplayer. Stunts features 11 different drivable cars, with either automatic or manual transmission. Replays of races can be saved and reviewed. There are four camera views available during replay and actual driving, and the dashboard is an optional overlay on all views. Another major feature of the game is the built-in track and terrain editor which allows the user to design arbitrary new tracks or modifications of existing tracks.
The cars can drive on paved roads, gravel roads, icy/snow roads, and grass if driving off the track — which all offer different levels of grip. The game has a relatively advanced pseudo-physics engine for its time which can simulate oversteer and understeer, grip is also proportional to the banking of a curve. The game features a 3D engine with flat shading and no textures, it uses polygonal graphics for most objects, including trees and road signs, there are few sprites. The resolution is 320×200 with 256 colors. There is an option to select high and low detail. The game is written for DOS and executes in real mode.
Stunts includes a form of copy protection. Each time after running the program, players must complete a specific phrase found in the game manual before being allowed to race. If the player fails to complete the phrase three times, the next race will still load. However, approximately four seconds into the race, the player is informed that he or she did not deactivate the car's security system, the car crashes, and the player is returned to the main menu.
Since 2001, group of fans (ZakStunts) hosts Stunts races open to everyone. They enable download the track of the month, race with your favourite car and submit your replay. They also run team events, yearly championships and live races. Plus, a huge archive of tracks, custom cars and editing tools.
More details about this game can be found on
Wikipedia
How to play:
Click on the joystick icon in the Stunts online emulator to see how to control the Stunts game