The Need for Speed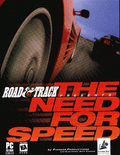 Game title:
The Need for Speed
Platform:
MS-DOS
Author:
Electronic Arts
Release:
1994
Genre:
Racing
Mode:
Single-player
Design:
Wei Shoong Teh, Paul B. Diamond, Brad Gour
Music:
Edwin Dolinski, James Bowers
Play The Need for Speed online in your browser without download and enjoy with RetroMania Online Emulator! The Need for Speed is classic game for DOS has Racing genre for MS-DOS retro console. If you love DOS Online games you can also find other emulator games on our site.
Road & Track Presents: The Need for Speed, later released in Japan as Road & Track Presents: Over Drivin', is a 1994 racing video game first released on the 3DO and then ported over to DOS, PlayStation and Sega Saturn. It is the first title released in the Need for Speed series. The premise of the game involves racing in sport cars, including several exotic models and Japanese imports. The game was noted for its realism and audio and video commentaries. Electronic Arts teamed up with automotive magazine Road & Track to match vehicle behavior, including the mimicking of the sounds made by the vehicles' gear control levers. The game also contained precise vehicle data with spoken commentary, several 'magazine style' images of each car interior and exterior and even short video clips highlighting the vehicles set to music.
Featured both closed circuits and three point-to-point tracks, each divided into three stages. For the latter, traffic vehicles appeared in races.Included police pursuits, in which the player could be ticketed or arrested after a police car succeeded in catching up with the player. The player was arrested if he/she received a third police ticket, while the Sega Saturn version only required two tickets for the player to be arrested.Featured detailed specifications, history, audio commentaries and real-life videos of each vehicle presented in the game (except Warrior).Featured data and records of each race, during. These included speed, track records and racer position.Replay feature allowed the player to view a saved race. Multiple camera views, playback speed and video navigation were offered.A special feature for finishing the tournament's (or entering the cheat) was 'rally' mode. The car dynamics were changed to make for a faster 'arcade' experience.Featured a 2-player head-to-head racing mode, which required computers connected via modem (The multiplayer mode can be played in DOSBox over a regular TCP/IP connection).
There are a total of seven tracks in the game, with one of them being a bonus track that can be unlocked in the game. They are listed as 'City', 'Coastal', 'Alpine', 'Rusty Springs', 'Autumn Valley', 'Vertigo Ridge' and the bonus track, 'Lost Vegas'.
Eight cars are available to choose from in the game, and a secret ninth car known as the Warrior, which is in purple and is a special car rather than being a licensed model. It can be accessed via a special game code if entered correctly. The eight cars featured (besides the Warrior) include the Toyota Supra Turbo (colored red), Acura NSX (colored silver), Mazda RX-7 (colored yellow), Porsche 911 Carrera (colored dark blue), Dodge Viper RT-10 (colored royal blue), Chevrolet Corvette C4 ZR-1 (colored dark green), Lamborghini Diablo VT (colored navy blue), and the Ferrari 512TR (colored red).
More details about this game can be found on
Wikipedia
How to play:
Click on the joystick icon in the The Need for Speed online emulator to see how to control the The Need for Speed game