Tunneler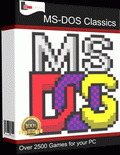 Game title:
Tunneler
Platform:
MS-DOS
Author:
Geoffrey Silverton
Release:
1991
Genre:
Action, Shooter
Mode:
Multiplayer
Design:
Geoffrey Silverton
Played:
69,997 times
Play Tunneler online in your browser without download and enjoy with RetroMania Online Emulator! Tunneler is classic game for DOS has Action, Shooter genres for MS-DOS retro console. If you love DOS Online games you can also find other emulator games on our site.
Tunneler is an early two-player, split-screen tank game. Two players are randomly placed underground. The object is to destroy your opponent before your opponent destroys you. Unfortunately, you have to find your opponent first.
Being underground, you must tunnel your way around in search of your opponent. If you happen to find your opponent's tunnel system, you can follow it to where your opponent is... if you choose to go the right way down the tunnel. Your opponent will be trying to do the same things, so making your tunnel have dead ends and switchbacks can be a useful strategy.
Remember, that since this is split-screen, both you and your opponent can see what the other person is doing. That doesn't mean you can easily find each other, but it does mean that as soon as you find your opponent's tunnel, they will know about it. And they will have the advantage of knowing where you are in their tunnel while you are stuck choosing which way to go down the tunnel.
More details about this game can be found on
MobyGames
How to play:
Click on the joystick icon in the Tunneler online emulator to see how to control the Tunneler game