4-in-1 Fun Pak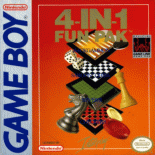 Game title:
4-in-1 Fun Pak
Platform:
Game Boy
Author:
Beam Software, Interplay
Release:
1992
Genre:
Puzzle
Mode:
Single-player
Design:
R. Richards, P. Shirley, Greg Holland, Philip Mitchell
Music:
Marshall Parker
Played:
33,350 times
Play 4-in-1 Fun Pak online in your browser without download and enjoy with RetroMania Online Emulator! 4-in-1 Fun Pak is classic game for GameBoy has Puzzle genre for Game Boy retro console. If you love GameBoy Online games you can also find other emulator games on our site.
4-in-1 Fun Pak combines four board games to play against the CPU or a fellow gamer. The include titles are Chess, Checkers, Reversi and Backgammon. Each game features a number of different difficulty settings (1 being the easiest, 6 being the hardest), with simple black and white visuals and a challenging CPU opponent to take on. Multiplayer is available, either using the same Game Boy between two players or using the system link option to play with two Game Boys.
More details about this game can be found on
MobyGames
How to play:
Click on the joystick icon in the 4-in-1 Fun Pak online emulator to see how to control the 4-in-1 Fun Pak game