Atomic Punk (Bomber Boy)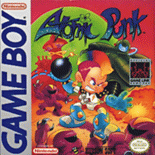 Game title:
Atomic Punk (Bomber Boy)
Platform:
Game Boy
Author:
Hudson Soft
Release:
1990
Genre:
Action
Mode:
Single-player
Design:
Toshimasa Ebina, Takahiro Haga, Koji Matsuura
Music:
Jun Chikuma, Noriyuki Nakagami, Hirohiko Fukuda, ...
Game manual:
Atomic_Punk_-_GameBoy_-_Manual.pdf
Played:
3,849 times
Play Atomic Punk (Bomber Boy) online in your browser without download and enjoy with RetroMania Online Emulator! Atomic Punk (Bomber Boy) is classic game for GameBoy has Action genre for Game Boy retro console. If you love GameBoy Online games you can also find other emulator games on our site.
Atomic Punk, released in Japan as Bomber Boy and in Europe as Dynablaster, is a video game released for the Game Boy in 1990 by Hudson Soft, as part of the Bomberman series. It was the first game of the series to be released on the Game Boy. There are four modes of gameplay in Atomic Punk, including two single player modes and two multiplayer game modes.
Gameplay in the first mode, 'Game A' (known as 'Bomber Boy' in the Japanese version) is similar to other games in the series, with a few differences. Power-ups, known as panels, which are usually gained in each level and carried over from one to the next, can also be bought from a store by using GP, which is collected depending on how much time it takes to complete a level and how many blocks are destroyed. At the beginning of each round, the player decides which panels to use to complete the round. Another difference is that the linear gameplay of the original, with the player advancing levels after completing each one, was changed to implement a world map with nine locations.
The second game mode, 'Game B' (known as 'Bomber Man' in the Japanese version) is the same as that in the original Bomberman game, but the stage area is squared rather than rectangular and the screen is always centered on Bomberman rather than scrolling when he touches the border.
More details about this game can be found on
Wikipedia
How to play:
Click on the joystick icon in the Atomic Punk (Bomber Boy) online emulator to see how to control the Atomic Punk (Bomber Boy) game