Bomberman GB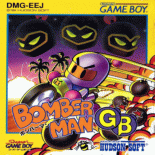 Game title:
Bomberman GB
Platform:
Game Boy
Author:
Hudson Soft
Release:
1994
Genre:
Action
Mode:
Single-player
Design:
Norio Ohkubo, Norihito Miyamoto, Kenji Ogata
Music:
Yasuhiko Fukuda
Game manual:
Wario_Blast_Featuring_Bomberman_-_GameBoy_-_Manual.pdf
Played:
3,612 times
Play Bomberman GB online in your browser without download and enjoy with RetroMania Online Emulator! Bomberman GB is classic game for GameBoy has Action genre for Game Boy retro console. If you love GameBoy Online games you can also find other emulator games on our site.
Bomberman GB is a series of video games for the Game Boy created by Hudson Soft. The first entry in the series was Bomberman GB, released as Wario Blast: Featuring Bomberman! in North America and Europe, later succeeded by Bomberman GB 2, under the name Bomberman GB internationally, and Bomberman GB 3, which was only released in Japan.
Bomberman GB is the first game in the Bomberman GB series, developed and published by Hudson Soft in Japan, and published by Nintendo in North America and Europe under the name Wario Blast: Featuring Bomberman!. It was released on August 10, 1994 in Japan and later in November 1994 in North America, and on June 29, 1995 in Europe.
In Bomberman GB, White Bomberman is out riding on his motorcycle, when he is suddenly ambushed by Black Bomberman and his gang, who rough him up and steal all of his power-up items. Now White Bomberman must chase them down to get them back!
In Wario Blast: Featuring Bomberman!, Wario one day stumbles upon Bomberman's world, and, being the greedy sort he is, decides to loot it for his own gain. Bomberman is the only one that stands between Wario and the complete decimation of his world.
Every stage is viewed from an overhead perspective. The objective of the game is to blow up enemies to move on to the next stage. Gray walls can be blown up as well. Certain gray walls contain power-ups (which increase the power of explosions, or the number of bombs that can be set) and locate enemies. In Wario Blast, the player can play as either Wario or Bomberman, but this only changes the enemies from Black Bombermen to Wario clones, and back.
The game was enhanced for play on the SNES through the Super Game Boy. The enhanced game offered color graphics, custom explosion sounds, a multiplayer mode which allowed for simultaneous gameplay between up to four opponents, and in Wario Blast a special Wario & Bomberman frame around the TV screen. The game uses a password system to save progress, where the passwords for Wario are the same as for Bomberman, but written backwards.
More details about this game can be found on
Wikipedia
How to play:
Click on the joystick icon in the Bomberman GB online emulator to see how to control the Bomberman GB game