Bomberman GB 2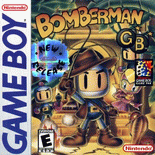 Game title:
Bomberman GB 2
Platform:
Game Boy
Author:
Hudson Soft
Release:
1995
Genre:
Action
Mode:
Single-player
Design:
Yuko Chikuda, Yosuke Ikeda, Tomonari Ikeda
Music:
Yasuhiko Fukuda, Takashi Morio
Game manual:
NintendoGameBoyBombermanGB.pdf
Played:
48,004 times
Play Bomberman GB 2 online in your browser without download and enjoy with RetroMania Online Emulator! Bomberman GB 2 is classic game for GameBoy has Action genre for Game Boy retro console. If you love GameBoy Online games you can also find other emulator games on our site.
Bomberman GB is a series of video games for the Game Boy created by Hudson Soft. The first entry in the series was Bomberman GB, released as Wario Blast: Featuring Bomberman! in North America and Europe, later succeeded by Bomberman GB 2, under the name Bomberman GB internationally, and Bomberman GB 3, which was only released in Japan.
Bomberman GB 2 is the second game in the Bomberman GB series, developed and published by Hudson Soft in Japan, published by Nintendo in North America and by Virgin Interactive in Europe. The game was released in Japan in 1995. Both North America and Europe released the game in 1998 as Bomberman GB, due to the previous game being released under the title Wario Blast: Featuring Bomberman!.
A Bomberman named Indy Bomber sets out on a long journey to uncover a legendary treasure called the Ring of Wishes. He discovers a scripture and begins reading it, but soon falls into a trap in the floor and ends up in a cave. Now he must find his way out of the cave and find the Ring of Wishes!
The main objective of the game is to defeat the enemies that lurk in the cave and find the exit when done. There are two modes that can be selected before each new stage; Mode A, which requires the player to simply destroy all the enemies, and Mode B, which requires the player to defeat the enemies in a certain order. When an area is cleared, the player earns a new ability to help them in later levels.
The game supports up to four players through use of the Game Link Cable and Super Multitap if used on a Super Game Boy.
More details about this game can be found on
Wikipedia
How to play:
Click on the joystick icon in the Bomberman GB 2 online emulator to see how to control the Bomberman GB 2 game