Boxxle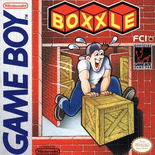 Game title:
Boxxle
Platform:
Game Boy
Author:
Thinking Rabbit
Release:
1989
Genre:
Puzzle
Mode:
Single-player
Design:
Toshirou Inoue
Music:
Goro Takahashi, Kenichi Tomizawa
Played:
26,110 times
Play Boxxle online in your browser without download and enjoy with RetroMania Online Emulator! Boxxle is classic game for GameBoy has Puzzle genre for Game Boy retro console. If you love GameBoy Online games you can also find other emulator games on our site.
Boxxle is a multiplatform puzzle video game released by Fujisankei Communications International.
Its Japanese title is 'Soukoban'. This video game is a Sokoban clone, with the plot being that the player must maneuver boxes in a warehouse in order to make enough money to woo his desired girlfriend. It had a sequel called Boxxle 2.
More details about this game can be found on
Wikipedia
How to play:
Click on the joystick icon in the Boxxle online emulator to see how to control the Boxxle game