Castlevania: The Adventure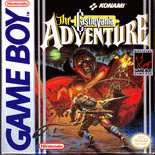 Game title:
Castlevania: The Adventure
Platform:
Game Boy
Author:
Konami
Release:
1989
Genre:
Action, Platform
Mode:
Single-player
Music:
Shigeru Fukutake, Norio Hanzawa, Hidehiro Funauchi
Game manual:
Castlevania_-_The_Adventure_-_Manual_-_GB.pdf
Played:
29,038 times
Play Castlevania: The Adventure online in your browser without download and enjoy with RetroMania Online Emulator! Castlevania: The Adventure is classic game for GameBoy has Action, Platform genres for Game Boy retro console. If you love GameBoy Online games you can also find other emulator games on our site.
Castlevania: The Adventure, originally released as The Legend of Dracula in Japan, is a platform game released for the Game Boy in 1989. It is the first Castlevania title for the system. Castlevania: The Adventure was re-released as part of the Konami GB Collection compilations in Japan and Europe. A remake titled Castlevania: The Adventure ReBirth was released as a WiiWare game for the Wii.
Set a century before the events of the original Castlevania, the player controls an ancestor of Simon Belmont named Christopher Belmont who goes on a quest to defeat Dracula.
The game consists of four stages, and unlike other Castlevania games, there are no sub-weapons, but hearts are used to restore health. The player has three lives, after which the game ends. Weapons can be upgraded, such as the whip into the chain whip and flame whip, but any enemy damage will downgrade an upgraded weapon. There are no stairs, unlike other Castlevania games. At the end of each level, there is a 'primary evil' to confront. Players can utilize crystals, hearts, and crosses of gold. There is also a point counter, and at 10,000 points, a player receives an extra life, and also receives one for every 20,000 points after that. Each stage also has a time limit in which to complete the level.
More details about this game can be found on
Wikipedia
How to play:
Click on the joystick icon in the Castlevania: The Adventure online emulator to see how to control the Castlevania: The Adventure game