Choplifter II: Rescue Survive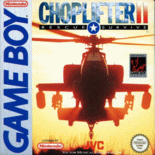 Game title:
Choplifter II: Rescue Survive
Platform:
Game Boy
Author:
Beam Software
Release:
1991
Genre:
Action, Shooter
Mode:
Single-player
Music:
Marshall Parker
Played:
7,883 times
Play Choplifter II: Rescue Survive online in your browser without download and enjoy with RetroMania Online Emulator! Choplifter II: Rescue Survive is classic game for GameBoy has Action, Shooter genres for Game Boy retro console. If you love GameBoy Online games you can also find other emulator games on our site.
Choplifter II is a video game developed by Beam Software and released in 1991 exclusively for the Game Boy. It is a follow-up to the original Choplifter and the first entry in the series released for the Game Boy. Gameplay is largely the same as the original Choplifter and revolves around piloting a rescue helicopter into hostile territory and rescuing hostages. Enemies like birds, fighter jets, and ammunition fired from various weapons can harm the player's helicopter. Saving more hostages than the scenario requires will allow players to collect extra points. However, losing a lot of hostages will lead to a loss of continues; regardless of how many lives the player has during that time.
More details about this game can be found on
Wikipedia
How to play:
Click on the joystick icon in the Choplifter II: Rescue Survive online emulator to see how to control the Choplifter II: Rescue Survive game