Hyper Lode Runner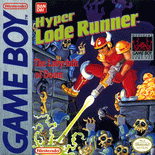 Game title:
Hyper Lode Runner
Platform:
Game Boy
Author:
Bandai
Release:
1990
Genre:
Action, Platform
Mode:
Single-player
Played:
23,543 times
Play Hyper Lode Runner online in your browser without download and enjoy with RetroMania Online Emulator! Hyper Lode Runner is classic game for GameBoy has Action, Platform genres for Game Boy retro console. If you love GameBoy Online games you can also find other emulator games on our site.
Hyper Lode Runner plays similar to Lode Runner. You must run around on brick platforms gathering all the gold, while avoiding enemies, known as Mad Monks, who follow your every move. You can zap blocks to create temporary holes to trap enemies or to escape through to platforms below. To make levels more interesting there are ladders and vertical ropes to climb, but the enemies can use these too.
There are 50 levels to play, and there is also an editor and a VS mode.
More details about this game can be found on
MobyGames
How to play:
Click on the joystick icon in the Hyper Lode Runner online emulator to see how to control the Hyper Lode Runner game