Kid Dracula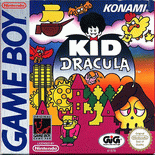 Game title:
Kid Dracula
Platform:
Game Boy
Author:
Konami
Release:
1993
Genre:
Action, Platform
Mode:
Single-player
Design:
Yukari Hayano, Nobuaki Matsumoto, Hiroko Funabiki
Music:
Akiko Itoh
Game manual:
Kid_Dracula_-_GameBoy_-_Manual.pdf
Played:
9,991 times
Play Kid Dracula online in your browser without download and enjoy with RetroMania Online Emulator! Kid Dracula is classic game for GameBoy has Action, Platform genres for Game Boy retro console. If you love GameBoy Online games you can also find other emulator games on our site.
Kid Dracula is a comical gothic-themed platform game video game, and a spinoff to Castlevania. It is simultaneously a remake and a sequel to the 1990 Famicom game Akumajō Special: Boku Dracula-kun. Konami released the title for the Game Boy in 1993 in Japan and North America. Galamoth (called Garamoth in the game) has returned and it is up to Kid Dracula to stop him once again. However, he seems to have forgotten most of his spells. Also, many of his minions have turned against him and joined Galamoth. Death remains by his side however, and gives him tips and heirlooms from his father, Dracula, along the way.
Kid Dracula is a side-scroller and a parody of the Castlevania series. The difference is you play as a young vampire rather than a vampire killer. Gameplay consists of very standard jump and shoot platform action. As you progress through the 8 levels, you gain the ability to perform spells, like turning into a bat. You will also receive guidance from your pal, the Grim Reaper.
More details about this game can be found on
Wikipedia
How to play:
Click on the joystick icon in the Kid Dracula online emulator to see how to control the Kid Dracula game