Monster Max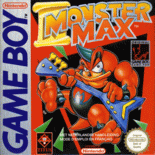 Game title:
Monster Max
Platform:
Game Boy
Author:
Rare Limited, Titus
Release:
1994
Genre:
Action, Puzzle
Mode:
Single-player
Design:
Jon Ritman, Bernie Drummond
Music:
David Wise
Played:
4,322 times
Play Monster Max online in your browser without download and enjoy with RetroMania Online Emulator! Monster Max is classic game for GameBoy has Action, Puzzle genres for Game Boy retro console. If you love GameBoy Online games you can also find other emulator games on our site.
Monster Max is an isometric adventure video game developed by Rare and published by Titus France. It was released for the Game Boy handheld game console in 1994. Monster Max was designed by Jon Ritman and Bernie Drummond and is very similar in both graphics and gameplay to Ritman and Drummond's 1987 title Head over Heels. The game sold poorly but received very positive reviews from critics. It was not released in North America.
Monster Max is a single-player adventure game that is presented from an isometric perspective, similar to Ultimate's Knight Lore. Players control the player character and guitarist Max as he attempts to defeat evil villain Krond, who threatens to ban all music from the world. The game is split into 29 levels in which the player must complete a number of challenges in order to progress, such as solving puzzles, jumping over obstacles, gathering objects, and defeating opponents. The levels also contain several helpful items, such as bombs, which can be used both as weapons and to open blocked or hidden rooms, a bag, to pick up or drop items in, and a force shield, which protects the player from enemies, among others. Upon completing a level, the player is rewarded with a certain amount of credits, which grant players access to new areas of the game's overworld, called the Mega Hero Academy.
More details about this game can be found on
Wikipedia
How to play:
Click on the joystick icon in the Monster Max online emulator to see how to control the Monster Max game