Prehistorik Man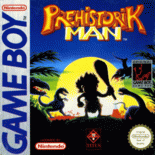 Game title:
Prehistorik Man
Platform:
Game Boy
Author:
Titus
Release:
1996
Genre:
Action, Platform
Mode:
Single-player
Design:
Elmar Krieger, Éric Zmiro, Francis Fournier
Music:
Thorsten Mitschele, Oliver Mayer
Played:
2,562 times
Play Prehistorik Man online in your browser without download and enjoy with RetroMania Online Emulator! Prehistorik Man is classic game for GameBoy has Action, Platform genres for Game Boy retro console. If you love GameBoy Online games you can also find other emulator games on our site.
Prehistorik Man is a Game Boy port of the famous DOS game Prehistorik 2. You, Sam the caveman, are hungry. You travel through various levels, defeating enemies, to gain yourself enough to eat in this side-scrolling platform game. Unlike the other game, the levels and controls differ in this version, due to the limitations of the Game Boy. There are ten levels and after every second level, there is a boss fight. Also, there are only two buttons, jump and attack.
More details about this game can be found on
MobyGames
How to play:
Click on the joystick icon in the Prehistorik Man online emulator to see how to control the Prehistorik Man game