Skate or Die: Bad 'N Rad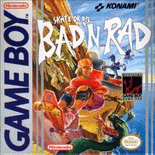 Game title:
Skate or Die: Bad 'N Rad
Platform:
Game Boy
Author:
Konami, Inc.
Release:
1991
Genre:
Action, Sport
Mode:
Single-player
Design:
Toru Hagihara, Yukari Hayano
Music:
Hidehiro Funauchi, K. Noguchi
Played:
17,784 times
Play Skate or Die: Bad 'N Rad online in your browser without download and enjoy with RetroMania Online Emulator! Skate or Die: Bad 'N Rad is classic game for GameBoy has Action, Sport genres for Game Boy retro console. If you love GameBoy Online games you can also find other emulator games on our site.
Skate Or Die: Bad'N Rad is a Jump'N Run that consists of 7 levels, three of which are viewed from a top-down perspective. The side-scrolling levels play similar to other Jump'N Runs, as you have to avoid obstacles and kill enemies by jumping on them. However, since you are on a skateboard, speed plays an important role, meaning that you cannot immediately stop and sometimes need to drive at full speed to manage wider jumps. The top-down levels play more similar to other Skate Or Die games as gradients influence your driving while you are trying to avoid obstacles, enemies and deadly spikes.
More details about this game can be found on
MobyGames
How to play:
Click on the joystick icon in the Skate or Die: Bad 'N Rad online emulator to see how to control the Skate or Die: Bad 'N Rad game