Shinobi II: The Silent Fury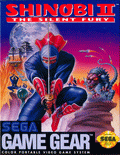 Game title:
Shinobi II: The Silent Fury
Platform:
Sega Game Gear
Author:
Sega
Release:
1992
Genre:
Action, Platform
Mode:
Single-player
Design:
Masahide Kobayashi, Tadashi Eda, Yuichi Matsuoka
Music:
Yuzo Koshiro, Motohiro Kawashima
Game manual:
Shinobi_II_-_GameGear_-_Manual.pdf
Played:
25,511 times
Play Shinobi II: The Silent Fury online in your browser without download and enjoy with RetroMania Online Emulator! Shinobi II: The Silent Fury is classic game for GameGear has Action, Platform genres for Sega Game Gear retro console. If you love GameGear Online games you can also find other emulator games on our site.
Shinobi II: The Silent Fury is a side-scrolling action game by Sega released for the Game Gear in 1992. It is the sequel to The G.G. Shinobi, an offshoot of the Shinobi series created for Sega's portable platform. The player controls Joe Musashi as he rendezvous with his ninja allies from the previous game, giving the player access to different characters with unique abilities as the game progresses.
Joe Musashi has to rescue the four fellow ninja and retrieve their corresponding Elemental Crystals, before the final showdown against the evil Black Ninja in his castle.
The player begins the game as Joe Musashi (the Red Ninja), whose mission is to retrieve five elemental crystals that were stolen by the enemy and spread across different locations. Similarly to the original G.G. Shinobi, the first four stages can be played in any order and after defeating the boss of each stage, Musashi will be joined by one of his allies, allowing the player to control them as well. Some of the ninjas' abilities are different from those in the previous game. Depending on the stage, the player must use a specific ninja's ability in order to reach the location of the crystal. As a result, some of the stages must be played more than once if the player does not have the necessary character yet. When the first four crystals are all gathered, the player gains access to the enemy's main base, where the fifth crystal is being held by the final boss.
More details about this game can be found on
Wikipedia
How to play:
Click on the joystick icon in the Shinobi II: The Silent Fury online emulator to see how to control the Shinobi II: The Silent Fury game